Handmade Clothes for Shop The Swap on craftster.org
Some items state that they fit me, I currently wear a size 5-7 in juniors pants and size 2-4 in women's. As for tops I have to size up most of the time to accomodate my D Cups, so I usually wear a size S/M in women's and M/L in juniors.
The first 4 items are all shirts, made from the Built By Wendy pattern #3835.
This is a great pattern (sadly none of these shirts fit properly anymore).
The first is made from a quilter's cotton, size 12 from the pattern (this was the first one I made), I wore it a few times (only like once or twice), because it was a little snug in the bust for me. Claim as BBW Floral, 1 pt.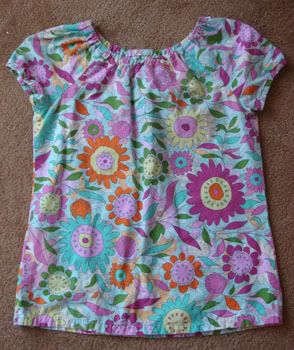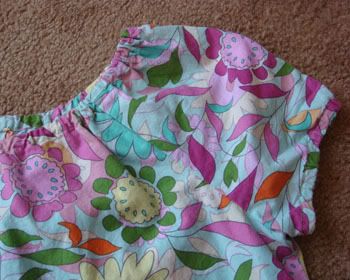 The second is made from a soft slinky jersey knit, it was also size 12, which turned out to be too big, so I only wore it once or twice as well. Claim as BBW Peach, 1 pt.
The last 2 are both from knits as well (I love these fabrics, especially the ice cream cones!), but they were made in size 10 and fit much better, though they have managed to shrink lengthwise so I don't feel comfortable wearing them anymore (they aren't belly shirts or anything like that, I just prefer SUPER long shirts nowadays). These were worn more than the other 2 but only over 1 summer (they still look great). Claim as BBW Hearts
or BBW IceCream
, 1 pt each.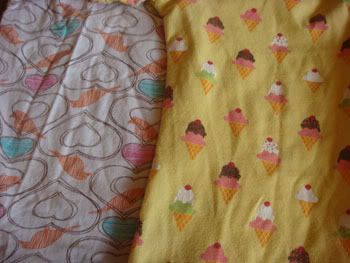 Next up is skirts!
First skirt is from quilter's cotton, again, only worn a few times (4-5 at most). Made from Simplicity pattern #4285, in size 7/8. Has a zipper on the side. Measures flat 15inches across waistband and 18inches long. This fit me when I tried it on the other day (but I tend not to wear skirts that don't go past my stupid looking knees). Claim as Floral Skirt, 1 pt.
Second is a slinky knit skirt, with a stretchy foldover knit wasitband (no elastic). I made this to wear to my brother's graduation but it turned out too big (I had a time figuring out this fabric, never did, everything turned out too big). I used this tutorial for the skirt . Measures flat 14inches across waistband (but stretches a TON) and 25inches long, it's not hemmed. Claim as Pink Skirt, 2 pts.
Third, is a lightweight corduroy, made without a pattern (based on a skirt I saw in Delia's). I loved the way this skirt turned out but I have NOTHING in my wardrobe that matches it (not colors I ever wear), so it only got worn maybe twice. It has a zipper on the side and measures flat 15.5 inches across the waistband and 18.5 inches long. I did not try this on to see if it still fits. Claim as PolkaDot Skirt, 1 pt.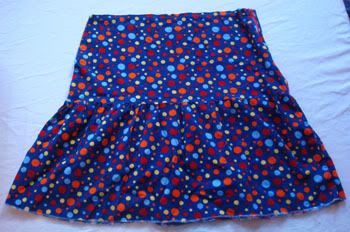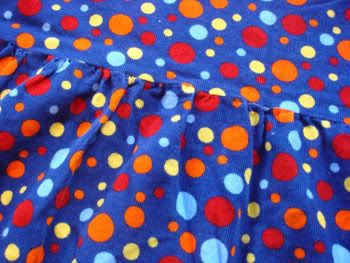 And the last skirt, I did not make, it was bought of eBay I believe, it is handmade though. Has a cute little bird applique on it. I don't know what size it would be, but it measures flat 15inches across the waistband and almost 17inches long. It was taken in on the side opposite of the zipper because it was slanted on the zipper side but not the other so it fit rather awkwardly (it could easily be taken out to make it a little bigger). This fit when I tried it on the other day (but again, I tend not to wear skirts that don't go past my stupid looking knees). Claim as Bird Skirt, 1 pt.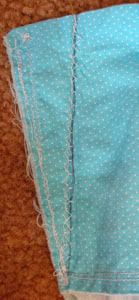 And now onto the dresses!
First is made from quilter's cotton, using Simplicity pattern #4119 in size 14. This is a cute pattern, it just does not suite my body well, it was worn once to my younger brotherinlaw's highschool graduation (he just finished his junior year in college). It zips up the back and the top is lined. I did not try this on to see if it still fits. Claim as Pink Geometric Dress, 2 pts.
Second is from that blasted hot pink slinky knit! I started making this the morning of a bachelorette party that had a pink/black dress code... I did not wear it (you can see in the picture the neckline was never finished but I will finish that if someone claims it), as it also did not suite my body... if only I had long legs (and a few more inches, I am so short...). It's a darling bubble dress though, made from McCall's pattern #M5325 in size S. Claim as Pink Bubble Dress, 3 pts.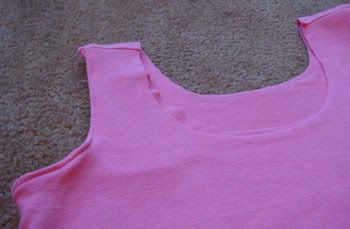 And lastly... a pj set that I made from the slinky pink knit... curse those 9 wasted yards of hot pink slinky knit...
This was my first time ruching (that's so not spelled right) with the elastic thread on the bobbin, it worked really well... only turned out too big. The top is ruched around the neckline and arms (based on a top I got from Target) and the shorts are ruched around the legs, both are hemmed just by serging around the edges. The shorts have an elastic waistband (they turned out doubly too big), so the elastic can always be taken it to fit better, I can even do this for you if you'd like). I would say they are about a size L... they are both big on me... the top is quite long (which I love), the shorts are probably a bit bigger than the top. The shorts measure flat 15inches across the waistband and 16inches long. Claim as Pink PJ Set, 2 pts.